QUICK & EASY
Spinach and sundried tomato stuffed crepe omelette
Crepes and omelettes come together in this easy-to-make, gourmet meal that's sure to satisfy at breakfast, lunch or dinner.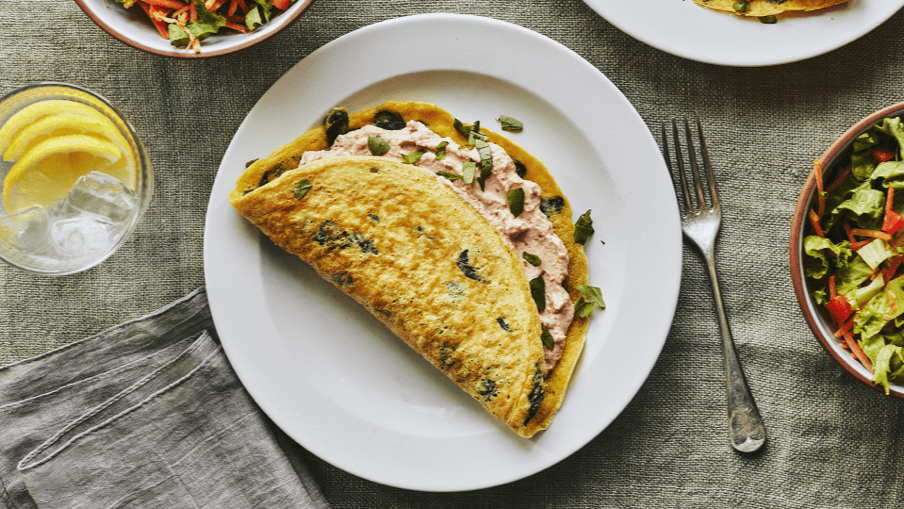 Developed by Geneviève O'Gleman, nutritionist

1 serving
12 minutes (prep: 10 mins / cook: 2 mins)


Ingredients
1 cup baby spinach
2 eggs, divided
2 tbsp all-purpose flour
¼ tsp vegetable oil
¼ cup cottage cheese 1% fat
1 tbsp sun-dried tomatoes in oil, drained
1 tbsp fresh basil
Calories 309
Carbs 18.5 g
Sugar 5 g
Fibre 2 g
Directions
Place the spinach in a medium microwave-safe bowl. Heat for 30 seconds to break it up.
Add 1 egg and the flour to the bowl containing the spinach. Whisk until the flour is completely dissolved in the mixture.
Stir in the other egg.
In a medium non-stick skillet, heat oil over medium heat. Using a kitchen brush, spread the oil in the pan.
Pour in the egg mixture, cover and cook for 2 minutes or until surface of crepe is completely set. Remove from heat.
While the crepe-omelette is cooking, place the cheese and tomatoes in a blender jar. Blend until smooth.
Coarsely chop the basil.
Slide the crepe-omelette onto a plate. Spread with tomato and cheese and garnish with basil. Roll up and serve.
Per serving (1 crepe-omelette)
Calories 309
Protein 23 g
Total fat 13 g

Saturated fat 3.5 g
Cholesterol 402 mg

Carbohydrates 18.5 g

Fibre 2 g
Sugars 5 g
Added sugars 0 g

Sodium 350 mg
Potassium 474 mg
Recipe developed by Geneviève O'Gleman, Dt. P. Nutritionist.