QUICK & EASY
Pan roast chicken breast with Tuscan salsa verde
This flavourful meal takes less than 30 minutes to cook and is great for a weeknight dinner or a dinner party with friends. It is gluten and dairy free and can be easily adapted for vegans. Serve with grilled vegetables.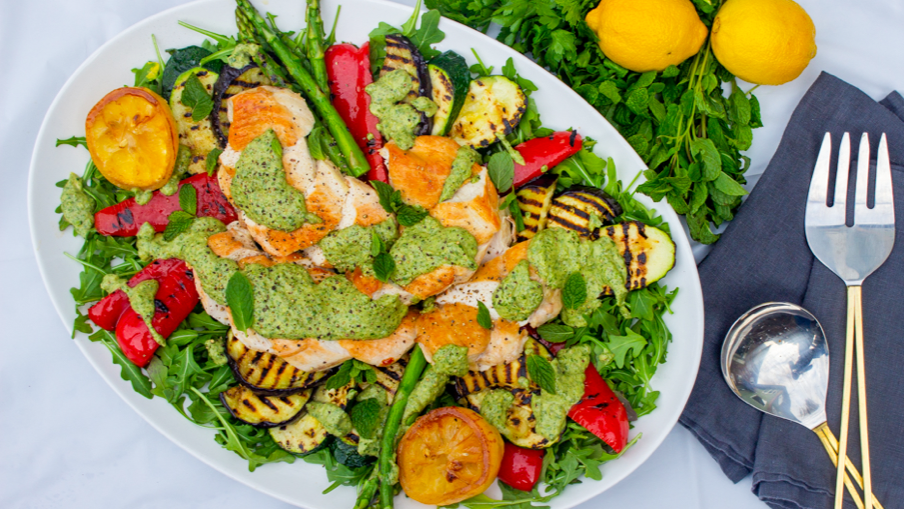 Developed by Chef Dan Hayes

4 servings
35 minutes (prep: 10 mins / cook: 20 mins)


Ingredients
Pan roast chicken breast
4 chicken breasts, skinless and boneless
Olive oil
Salt
Lemon
Grilled vegetables
1 red pepper, seeded and cut into eighths
10 asparagus, trimmed
1 zucchini, cut on a diagonal bias into cm thick slices
1 eggplant, cut lengthwise once and then slice into cm thick slices
2 tbsp olive oil
Salt
Tuscan salsa verde
½ cup of capers rinsed and drained
4—6 anchovy filets optional
1 tbsp Dijon mustard
Clove of garlic, peeled
Big handful of fresh mint
Big handful of fresh parsley
1 cup light olive oil
Juice of one lemon
Arugula
Calories 422.5
Carbs 12.5 g
Sugar 6.8 g
Fibre 5.2 g
Directions
Chicken
Pre-heat oven to 400°F (200 °C). Heat oven-proof frying pan (most pans are oven proof) on a high heat until very hot and put in a splash of olive oil.
Gently lay breasts in and season with salt. Cut lemon in half and put one lemon flesh side down in pan.
Allow to fry on high heat for one minute and then place whole pan in oven – do not turn/flip the chicken.
Cook for 15 minutes and then pull out of oven and allow to rest for at least 10 minutes.
Grilled vegetables
Put all prepped vegetables in a bowl and mix with olive oil and large pinch of salt and mix well, ideally with your hands.
Heat a chargrill pan or griddle and grill vegetables in batches. When you see char marks on one side flip vegetables and cook the same amount on other side. It will be easiest to cook vegetables one type at a time.
Salsa verde
Put all ingredients and blend them with an immersion/stick blender until smooth. If it is too thick add in a splash more oil to loosen.
Slice chicken and serve individually or family style by spreading on a platter then laying grilled vegetables on top followed by chicken. Spoon over some salsa verde onto the chicken and serve remainder of salsa verde in a bowl with a spoon.
Per serving (1 of 4)*
Calories 422.5 Kcal
Protein 34 g
Total fat 27 g

Saturated fat 5.7 g
Cholesterol 104 mg

Carbohydrates 12.5 g

Fibre 5.2 g
Sugars 6.8 g
Added sugars 0 g

Sodium 177 mg
Potassium 876 mg
* Nutrition values include 3.5 oz for chicken serving and 2 tbsp for salsa.
Recipe developed by Chef Dan Hayes.