Quick & Easy
Mediterranean seared salmon with herb potatoes and asparagus
This flavourful meal takes less than 30 minutes to cook and is great for a weeknight dinner or a dinner party with friends. It is gluten and dairy free and can be easily adapted for vegans. Serve with sauce vierge.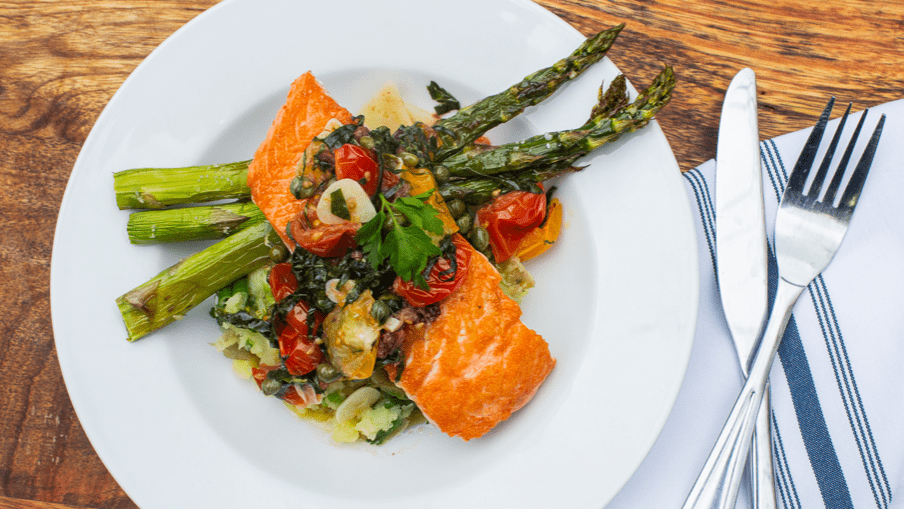 Developed by Chef Dan Hayes

4 servings
30 minutes (prep: 10 mins / cook: 20 mins)


Ingredients
Salmon
4 thick salmon filets (ideally from the head end of the fish), skin off
½ tbsp olive oil
Salt
Potatoes
8 medium Yukon gold potatoes
1 bunch spring onions, finely sliced
½ bunch parsley leaves cut finely
Salt & black pepper
3 tbsp olive oil
Asparagus
20 spears of asparagus, trimmed
1 tbsp olive oil
Salt
Sauce vierge
16 kalamata olives, pitted and cut in half
2 tbsp capers, drained and squeezed
5 cloves garlic, peeled and sliced
10 cherry tomatoes, halved
A few rasps lemon zest
1 bunch basil, leaves and stems separated
1 cup light olive oil
Salt
Calories 700
Carbs 56 g
Sugar 1 g
Fibre 8 g
Directions
Salmon
Heat up a non-stick pan on a high heat until very hot and add a small splash of olive oil. Do not start cooking until the pan is really hot.
Season salmon lightly with salt and lay the salmon in flesh side down (the pink side down) gently.
Leave the pan on a high heat for one minute and then turn down to a medium heat. Let the salmon cook for 4 minutes, then flip it, turn it off and don't touch until ready to serve – you want to make sure you are leaving it for at least 5 minutes.
Potatoes
Slice potatoes in halves or quarters and gently boil in water. Strain and roughly crush with a fork.
Fold in parsley and spring onions along with a big pinch of salt and black pepper to taste and olive oil.
Asparagus
Pre-heat oven to 400°F (200 °C).
Lay asparagus on baking tray. Drizzle with olive oil and season with salt to taste.  Roast for 10 minutes.
Sauce Vierge
Put everything apart from the basil leaves and put in a small pot and simmer gently for 3 minutes and then turn off.
Remove and discard basil stalks then add in the basil leaves and stir well. Season to taste with salt.
Per serving (1 of 4)*
Calories 700
Protein 32.3 g
Total fat 37.7 g

Saturated fat 3.3 g
oCholesterol 71 mg

Carbohydrates 56 g

Fibre 8 g
Sugars 1 g
Added sugars 0 g

Sodium 120 mg
Potassium 1730 mg
 
* Nutrition values include 2 tbsp of sauce.
Recipe developed by Chef Dan Hayes.