QUICK & EASY
Mediterranean-inspired salad bowl
There's so much to love about this veggie-packed salad bowl. It's a balanced meal that's ready in a jiffy. It's nutritious and delicious, with a fresh burst of flavour from the lemony vinaigrette.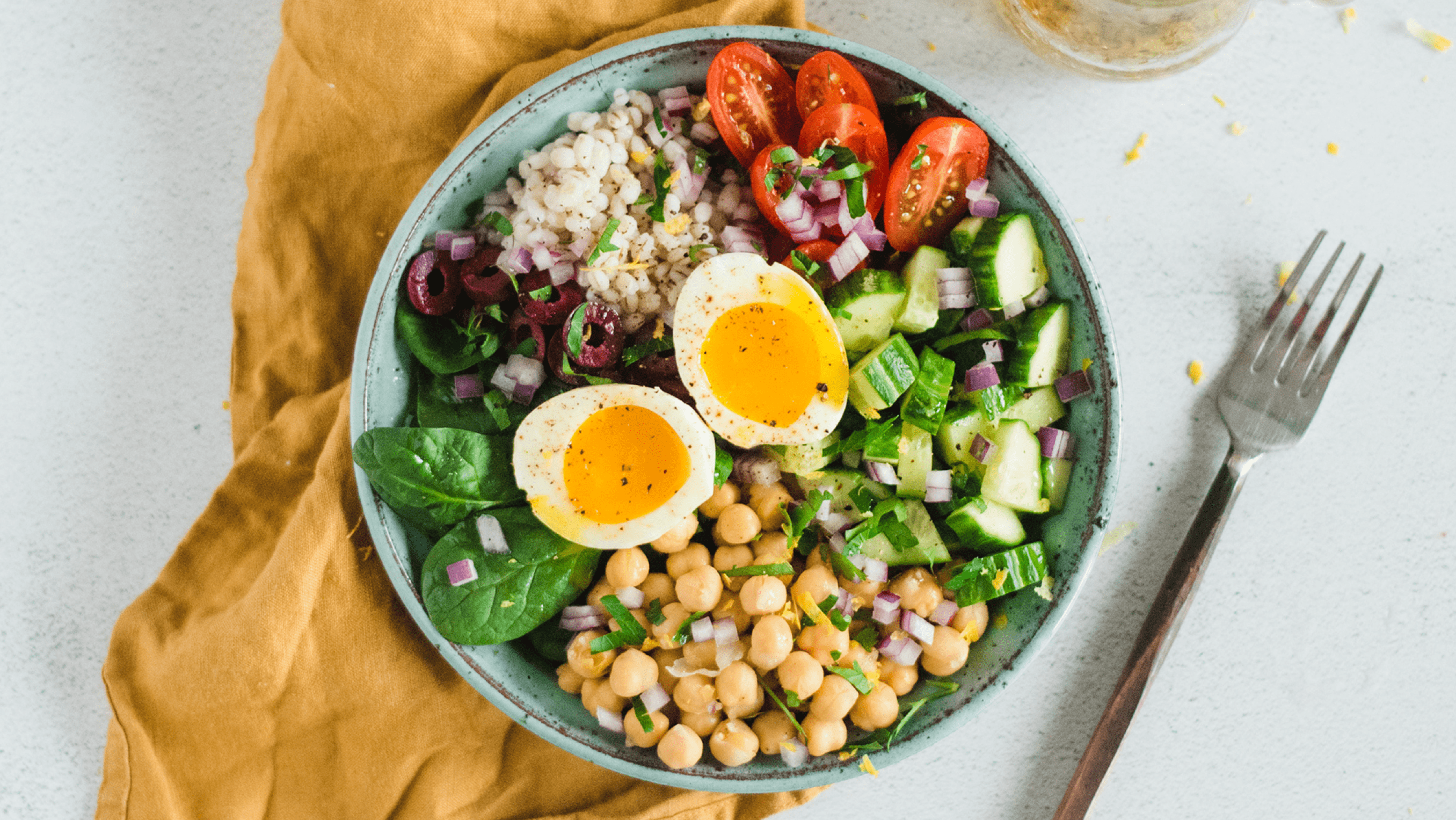 Developed by Shannon Crocker, RD PHEc

4 servings
15 minutes (prep: 15 mins / cook: 0 mins)


Ingredients
Lemony vinaigrette
¼ cup (60 mL) olive oil
1 tsp lemon zest
3 tbsp (45 mL) fresh lemon juice
1 tsp (5 mL) dried oregano
1 small clove garlic, pressed
Pinch each salt and pepper
Salad bowl
2 cups (500 mL) halved grape or cherry tomatoes
2 cups (500 mL) quartered and sliced English cucumber
2 cups (500 mL) baby spinach
1 can (398 mL) no salt added chickpeas, drained and rinsed
1

1

/

3

cups (325 mL) cooked barley
4 soft-cooked eggs, peeled and halved
¼ cup (60 mL) cup chopped flat leaf parsley
¼ cup (60 mL) diced red onion
¼ cup (60 mL) sliced kalamata olives
¼ cup (60 mL) crumbled feta cheese (optional)
Calories 410
Carbs 41 g
Sugar 8 g
Fibre 8 g
Directions
Lemony vinaigrette
In a small bowl, whisk together oil, lemon zest, lemon juice, oregano, garlic, salt, and pepper. Set aside.
Bowls
Equally divide tomatoes, cucumber, baby spinach, chickpeas, and barley among 4 bowls. Top each bowl with two egg halves. Sprinkle with parsley, red onion, and olives. Drizzle on dressing and enjoy.
 
Switch it up! Try edamame or salmon instead of chickpeas, baby kale or arugula instead of spinach, and brown rice or quinoa in place of barley.
Tip: How to soft cook eggs: Put eggs in a small pot; add cold water to cover eggs by about 1 inch (2.5 cm). Cover and bring to a boil over high heat. As soon as the water reaches a boil, remove pot from heat; let stand for 4 minutes. Drain and rinse under cold water.
Per serving* (1 of 4)
Calories 410
Protein 14 g
Total fat 23 g

Saturated fat 4 g
Cholesterol 185 mg

Carbohydrates 41 g

Fibre 8 g
Sugars 8 g
Added sugars 0 g

Sodium 290 mg
Potassium 700 mg
* Nutritional info is without the feta.
Recipe developed by Shannon Crocker, RD PHEc