QUICK & EASY
Japanese sesame slaw
This colourful salad offers tangy flavour and crunch. Much lighter than a classic coleslaw, pack it along on your next potluck or enjoy as an accompaniment to fish, chicken or grilled tofu kabobs.
Carb Smart
Vegetarian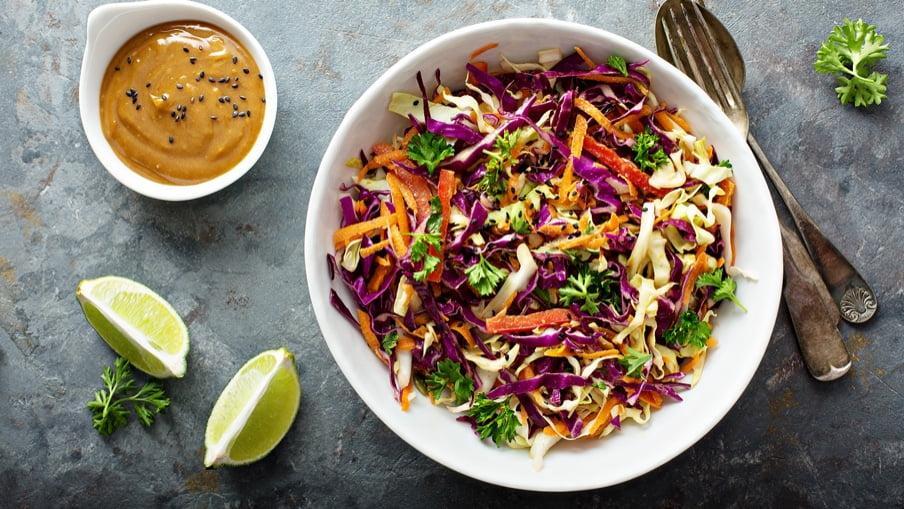 Developed by CanolaInfo.org

8 servings
15 minutes (prep: 15 mins / cook: 0 minutes)


Ingredients
½ small head of green cabbage, thinly sliced or grated
½ small head of red cabbage, thinly sliced or grated
6 green onions, sliced diagonally
1 large carrot, peeled and coarsely grated
1 tbsp (15 mL) sesame seeds, white or black, toasted
Calories 316
Carbs 14 g
Sugar 2 g
Fibre 4 g
Dressing :
1

/

3

cup (75 mL) seasoned rice vinegar
¼ cup (60 mL) canola oil
1 large clove garlic, minced
1 tsp (5 mL) grated fresh ginger
1 tsp (5 mL) sodium-reduced soy sauce
1 tsp (5 mL) sesame oil
Directions
In a large bowl, combine both cabbages, onion, carrot and sesame seeds.
Prepare dressing by shaking together rice vinegar, canola oil, garlic, ginger, soy sauce and sesame oil.
Pour dressing over salad, toss and refrigerate before serving. Ideally, allow to stand in fridge for an hour or more to allow flavours to mellow. Re-toss before serving.
Per serving (½ cup/125 mL)
Calories 316
Protein 6 g
Total fat 7 g

Saturated fat 1 g
Cholesterol 0 mg

Carbohydrates 14 g

Fibre 4 g
Sugars 2 g
Added sugars 0 g

Sodium 200 mg
Potassium 190 mg
©

Copyright 2022 Canadian Diabetes Association. Reproduced with permission from the Canadian Diabetes Association.