QUICK & EASY
Grilled tortilla and shrimp salad
This healthy dish is super fresh and fun, like a Mexican fiesta in your mouth.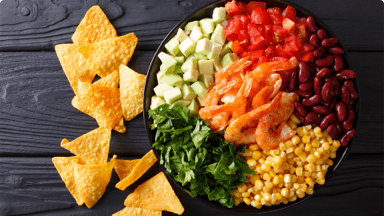 Developed by Emily Richards (PH Ec.) 

4 servings 
15 minutes (prep: 10 mins / cook: 5 mins)


Ingredients
1 bag (454 g) frozen jumbo shrimp, thawed, peeled and deveined
2 tsp (10 mL) smoked paprika
1 tsp (5 mL) canola oil
1 clove garlic, minced
4 small whole wheat or corn tortillas
2 tbsp (25 mL) chopped fresh cilantro
1 tbsp (15 mL) lemon juice
5 cups (1.25 L) mixed spring greens
2 tbsp (25 mL) sherry vinegar
Pinch fresh ground pepper
1 cup (250 mL) halved grape tomatoes
Calories 228
Carbs 21 g
Sugar 2 g
Fibre 4 g
Look for large shrimp to put right on the grill, but if they are smaller simply use a grill basket.
Directions
In a bowl, toss shrimp with paprika, oil and pepper. Place on oiled grill over medium high heat, turning once for about 4 minutes or until firm and pink. Remove to a clean bowl and toss with cilantro and lemon juice.
Place tortillas on grill and toast on both sides. Place one on each dinner plate.
In another bowl, toss greens with vinegar and pepper. Top each tortilla with greens and sprinkle with tomatoes. Top with grilled shrimp to serve.
Per serving (1 cup/250 mL)
Calories 228
Protein 24 g
Total fat 5 g

Saturated fat 1 g
Cholesterol 180 mg

Carbohydrates 21 g

Fibre 4 g
Sugars 2 g
Added sugars 0 g

Sodium 419 mg
Potassium 594 mg
© 2022 Heart and Stroke Foundation of Canada. Reproduced with permission from the Heart and Stroke Foundation.