QUICK & EASY
Chocolate almond bites
Little goodies with BIG flavour (you won't even notice there's beans inside).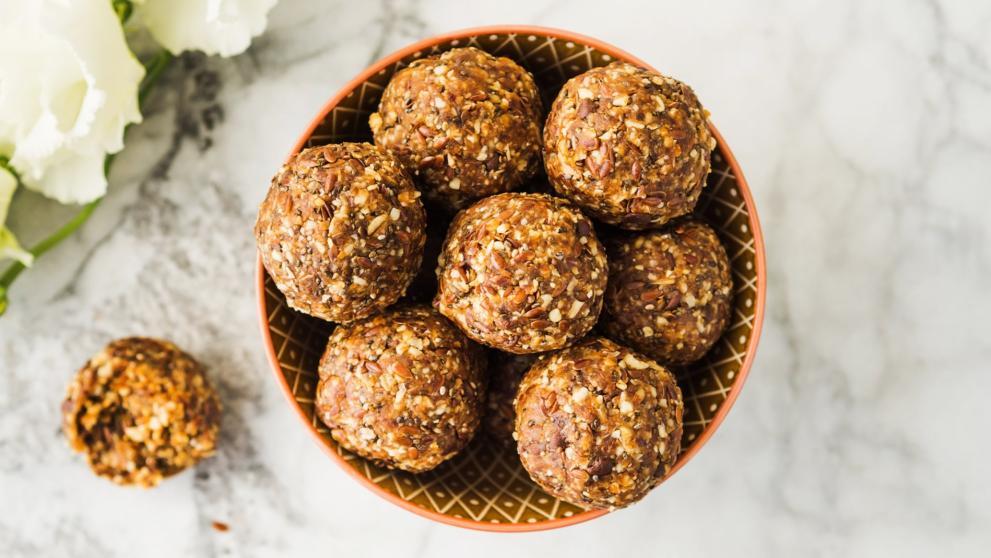 Developed by Emily Richards (PH Ec.)

10 bites
16 minutes (prep: 15 mins / cook: 1 min)


Ingredients
4 Medjool dates, pitted and chopped
¼ cup (50 mL) water
1 cup (250 mL) canned no salt added black beans, drained and rinsed well
2 tbsp (25 mL) natural almond or peanut butter
3 tbsp (45 mL) unsweetened cocoa powder
1 oz (30 g) bittersweet 70% cocoa chocolate, melted
½ tsp (2 mL) vanilla extract
3 tbsp (45 mL) ground almonds
Calories 93
Carbs 13.5 g
Sugar 7 g
Fibre 3 g
Directions
In a microwaveable bowl, combine dates and water; cover and microwave on high for 1 minute or until softened and water is absorbed.
Scrape mixture and beans into food processor with almond butter and cocoa powder. Puree until very smooth, stopping and scraping down sides a couple of times.
Scrape mixture into a bowl and stir in chocolate and vanilla. Chill in refrigerator for about 45 minutes or until slightly firm. Using a mini ice cream scoop or tablespoon, roll into balls and place on small baking sheet. Roll into ground almonds and keep refrigerated.
Tip: These can be frozen for up to 2 weeks or kept in the refrigerator for up to 1 week in a covered container.
Per serving (1 bite)
Calories 93
Protein 3 g
Total fat 4 g

Saturated fat 1 g
Cholesterol 0 mg

Carbohydrates 13.5 g

Fibre 3 g
Sugars 7 g
Added sugars 0 g

Sodium 2 mg
Potassium 150 mg
© 2022 Heart and Stroke Foundation of Canada. Reproduced with permission from the Heart and Stroke Foundation.