ONE POT
Jollof rice
Enjoy this West African-inspired dish.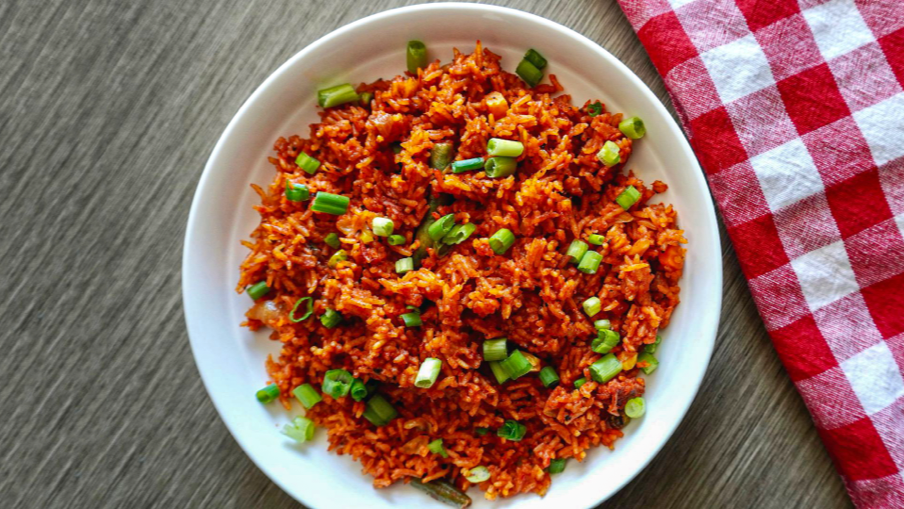 Developed by Rosie Mensah, MPH, RD

10 servings
60 minutes (prep: 15 mins / cook: 45 mins)


Ingredients
1 large yellow onion, chopped
2 garlic cloves
Ginger, a thumb (3 tbsp)
½ medium red onion
Two plum tomatoes
⅓ cup vegetable oil (80 mL)
1 can of diced tomato (28 fl oz ) (can substitute with crushed tomatoes)
1 can of tomato paste (13 fl oz)
1 red bell pepper (roasted)
1 scotch bonnet pepper (or a habanero pepper)
2 teaspoons curry powder
2 teaspoons garlic powder
2 teaspoons ground ginger
2 teaspoons paprika
2 teaspoons onion powder
1 teaspoon nutmeg
1 dash black pepper
½ tsp thyme
1 teaspoon salt
1 chicken bouillon cubes, crushed
2 cups basmati rice, well rinsed
¾ cup frozen mixed vegetables (125 g)
1 bay leaf
Calories 264
Carbs 44 g
Sugar 6 g
Fibre 3 g
Directions
In a blender, combine tomatoes, scotch bonnet pepper, red onion, ginger, red pepper and garlic cloves; purée and set aside.
Heat vegetable oil in a large pot over medium heat. Once the oil begins to simmer, add chopped onions and let fry to golden brown. Next, add the crushed chicken bouillon cube and tomato paste. Let fry for 2-3 minutes. Next, add tomato puree along with the salt, curry powder, paprika, garlic powder, onion powder, bay leaf, ginger, nutmeg, black pepper, and salt. Bring mixture to a boil (about 5 minutes).
Stir in the well-washed basmati rice and frozen mixed vegetables. Mix well.
Cover the pot by placing a foil or parchment paper sheet between the pot and the lid. Let the rice cook for 10 minutes on medium heat, stirring occasionally. Reduce heat and let the rice cook for another 20 minutes until fully cooked. If the rice seems dry, add ½ cup of water. If the rice seems too saucy, remove the lid and let it cook for 5 minutes.
Serve with a good source of protein, such as meat, fish, a boiled egg, and a salad.
Enjoy!
Per serving (1 of 10)
Calories 264
Protein 6 g
Total fat 7.7 g

Saturated fat 0.7 g
Cholesterol 0.85 mg

Carbohydrates 44 g

Fibre 3 g
Sugars 6 g
Added sugars 0 g

Sodium 372 mg
Potassium 410 mg
Recipe developed by Rosie Mensah, MPH, Dietitian.