Shopping smarter
Feel prepared and purposeful as you stroll down grocery aisles with these pointers on how to be "cart smart."

Tips and tricks for being "cart smart"
Optimize your grocery shopping experience with these tips and tricks:
Read more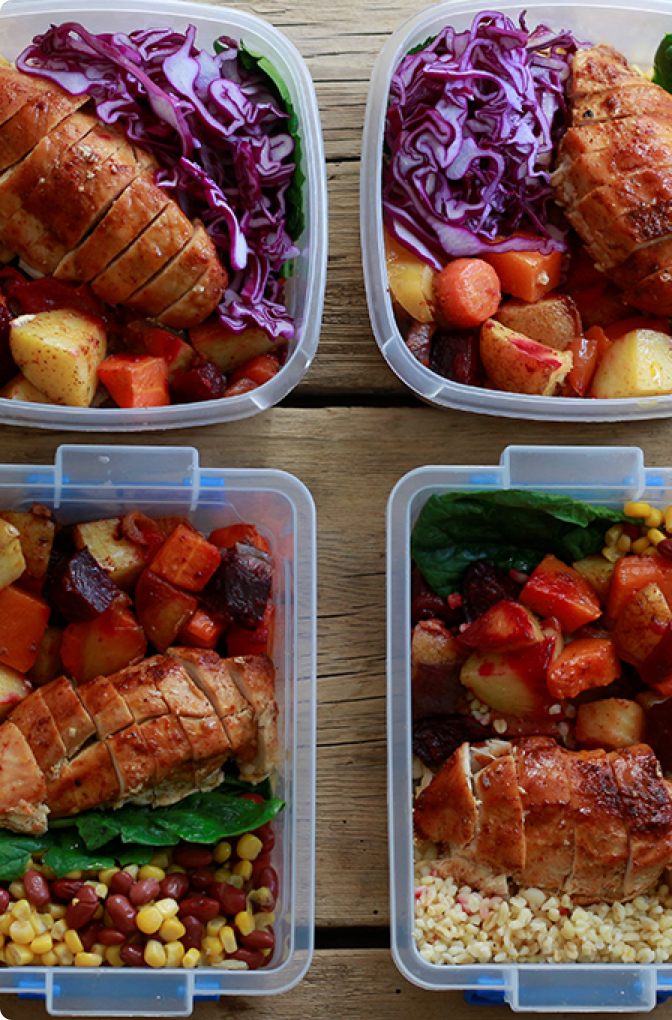 Make a menu
Planning the week's meals in advance means less time between grocery store aisles and more time back to you. Check out our handpicked healthy recipes for inspiration – you might even discover a new favourite meal for you and your family.
Read more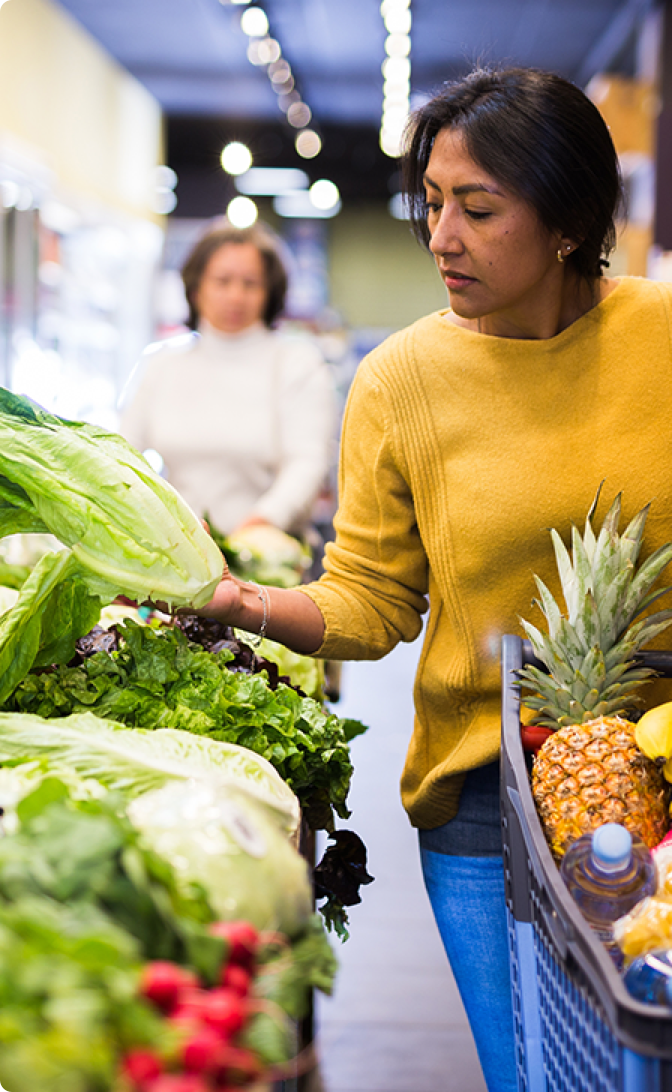 Stick to the sides
Most grocery stores are set up with the fresh, perishable items lining the perimeter. This includes produce (fruits and vegetables), protein (fish, poultry, red meat, eggs) and dairy (milk products and alternatives). When you arrive at the grocery store, list in hand, stick to the sides of the store to get more fresh food in your cart. Wondering if there's a healthier alternative for something on your list? Take a look at our Swap It section.
Read more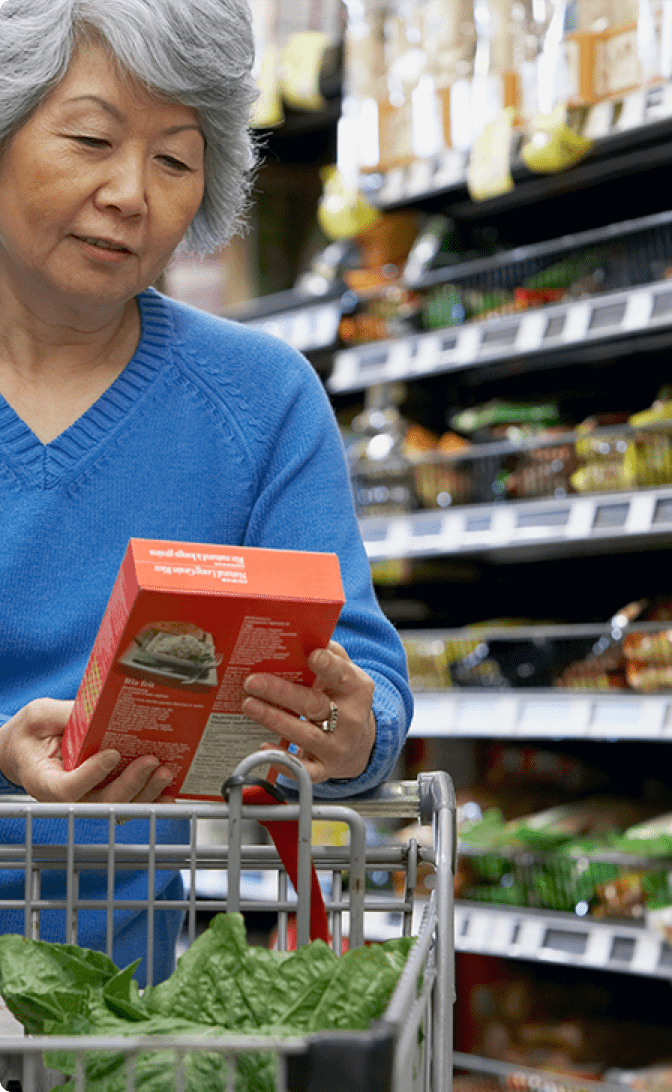 Practice packaging principles
You will likely need a few packaged items, and that's okay. The important thing is to be strategic about which processed foods make it into the shopping cart. Aim for products low in sodium and saturated fat and high in fibre. The nutrition label contains plenty of info to help guide your selection. Check out the section on nutrition labels to learn how to read them.
Friendly tip:
Fuel up before you head to the stores. If you're hungry while shopping, you might be more likely to buy things that aren't on your list.
Diabetes superfoods to add to your grocery cart 
Don't leave the grocery store without these 8 items:

Beans
A great source of fibre, beans slow down digestion and help reduce sudden spikes in blood sugar.

Berries
These sweet treats are packed with vitamins and fibre and provide a delicious dessert alternative.

Dark, leafy vegetables
Spinach, kale, arugula, collard greens – low in calories and carbohydrates but high in vitamins and minerals.
Fish
"Fatty fish," like salmon and trout, are high in omega-3 fatty acids, which may help to reduce the risk of heart disease.

Milk and yogurt
Low-fat dairy products are nutritious (full of calcium and vitamin D) and delicious.

Nuts
Almonds, pecans, cashews – go nuts (but hold the salt). These super snacks are full of healthy fat, fibre and flavour.

Sweet potatoes
Much lower on the glycemic index than regular potatoes and jam-packed with fibre.

Whole grains
Rich in vitamins, minerals and fibre, whole grains are healthy and versatile pantry staples.
Get grocery savvy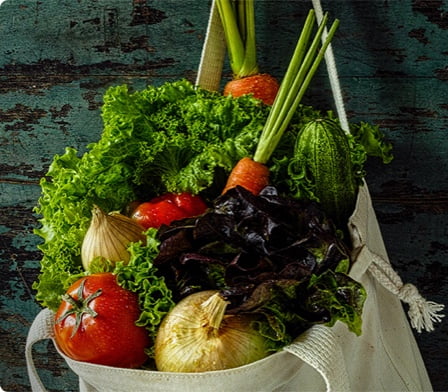 Grocery shopping tips
Better eating starts with better shopping. See how to improve and optimize your grocery store experience.
Get label literate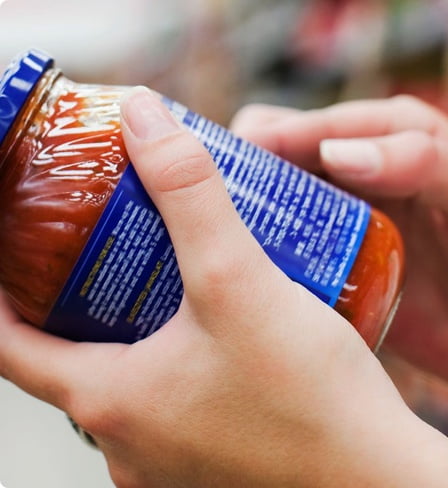 Reading nutrition labels
A nutrition facts table can help you make informed food choices when grocery shopping and preparing food at home. Learn about what's in a nutrition facts table and how to use it.
Start swapping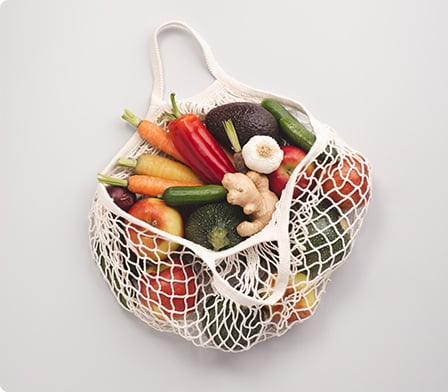 Ingredient substitutions
Learn how your favourite dishes can get a healthy makeover with simple food substitutions.
Start carb counting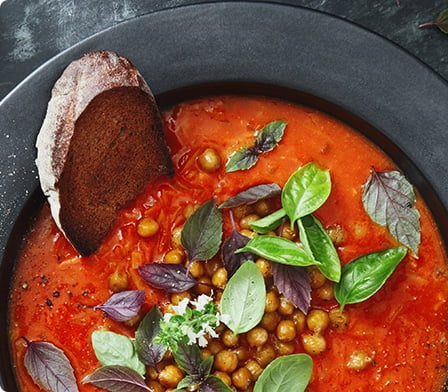 Counting carbs
Learn more about carbohydrates, how to track them and their important role in diabetes management and heart health.