FLAVOURS OF THE WORLD
Thai beef salad rolls
These refreshing rolls are perfect for a summer get together.
Calorie Smart
Carb Smart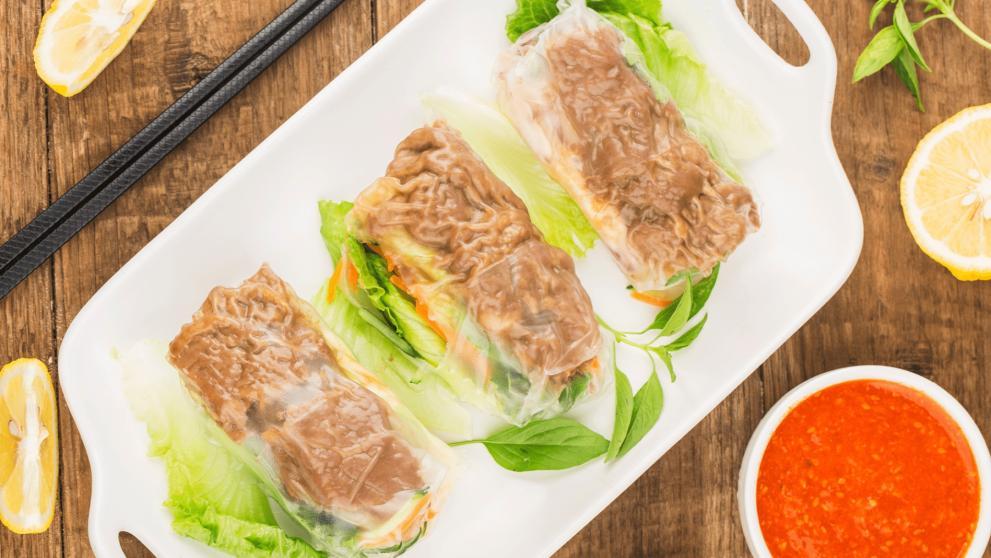 Developed by Emily Richards (PH Ec.)

2 servings
25 minutes (prep: 20 mins / cook: 5 mins)




Ingredients
3 fast fry beef striploin steaks (about 200 g)
3 tbsp (45 mL) chopped fresh cilantro or mint, divided
4 tsp (20 mL) sodium reduced soy sauce
¼ tsp (1 mL) hot pepper flakes
1 tsp (5 mL) canola oil
1 cup (250 mL) lightly packed baby arugula or thinly sliced spinach
½ cup (125 mL) julienned cucumber (matchstick)

1

/

3

cup (75 mL) julienned carrot (matchstick)
2 tbsp (25 mL) lime juice
4 large rice paper wrappers
¼ cup (50 mL) chopped fresh mango (optional)
2 tbsp (25 mL) chopped fresh mint
Calories 290
Carbs 23 g
Sugar 2 g
Fibre 2 g
Directions
Thinly slice steaks into strips and toss with 1 tbsp (15 mL) of the cilantro, soy sauce and hot pepper flakes.
In a nonstick skillet, heat oil over medium high heat and saute beef mixture for 3 minutes or until hint of pink remains. Remove from heat.
In a bowl, toss together arugula, cucumber, carrot and lime juice.
Dip 1 rice paper wrapper into warm water until limp. Place on dry clean tea towel and place a quarter of the greens mixture in the centre. Top with a quarter of the beef, mango, if using and sprinkle with mint. Tuck 2 sides in and roll up. Repeat with remaining ingredients.
Per serving (2 salad rolls)
Calories 290
Protein 27 g
Total fat 9 g

Saturated fat 3 g
Cholesterol 55 mg

Carbohydrates 23 g

Fibre 2 g
Sugars 2 g
Added sugars 0 g

Sodium 500 mg
Potassium 460 mg
© 2022 Heart and Stroke Foundation of Canada. Reproduced with permission from the Heart and Stroke Foundation.