Flavours of the World
Pakistani potatoes and cauliflower (aloo gobi)
Aloo gobi is popular all over South Asia and around the world—it was even featured in a Hollywood movie!
Calorie Smart
Carb Smart
Vegetarian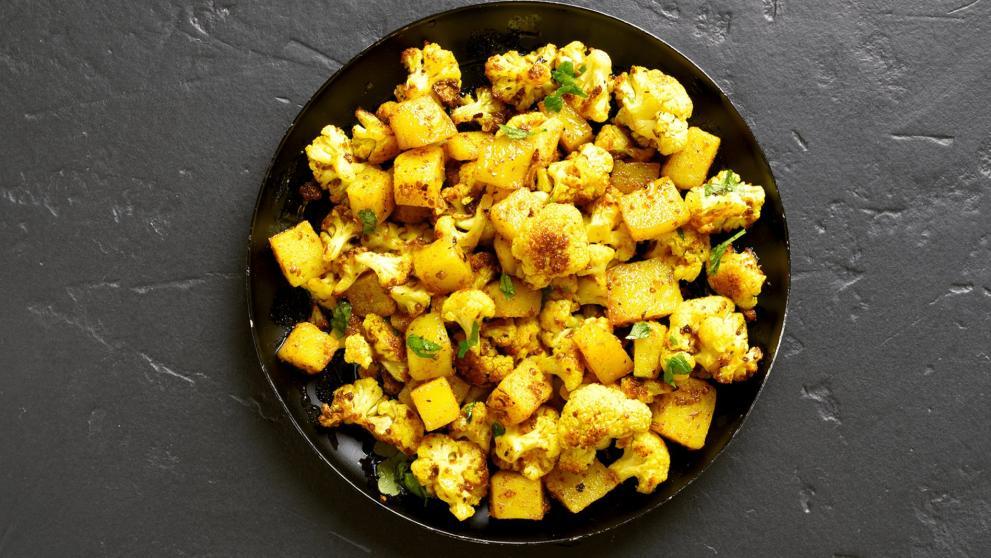 Developed by www.robertrose.ca

4 servings
50 minutes (prep: 15 mins / cook: 35 mins)


Ingredients
2 tsp (10 mL) vegetable oil
1 large onion, cut into thin slices
2 plum (Roma) tomatoes, peeled and chopped
2 green chili peppers, seeded and chopped
1½ tsp (7 mL) hot pepper flakes
1 tsp (5 mL) nigella seeds
½ tsp (2 mL) salt
¼ tsp (1 mL) ground turmeric
1 cup (250 mL) chopped peeled red-skinned potatoes
¼ cup (50 mL) water (optional)
6 cups (1.5 L) cauliflower florets
1 tsp (5 mL) freshly squeezed lemon juice
1 piece gingerroot (2 inch/5 cm) thinly sliced
2 tbsp (25 mL) chopped fresh cilantro
Calories 120
Carbs 22 g
Sugar 0 g
Fibre 5 g
Directions
In a large skillet, heat oil over medium heat.
Add onions and cook, stirring for about 5 minutes or until translucent.
Add tomatoes, green chilies, hot pepper flakes, nigella seeds, salt, and turmeric; cook, stirring, for 5 minutes.
Add potato and cook, stirring, for 3 to 4 minutes, adding 2 tbsp (25 mL) water if mixture is sticking to pan.
Reduce heat to low, cover and cook for about 10 minutes or until potatoes are starting to get tender.
Stir in cauliflower, cover and increase heat to medium. Cook, stirring occasionally and adding another 2 tbsp (25 mL) water if mixture is sticking, for 20 minutes or until potato and cauliflower are tender.
Remove from heat and stir in lemon juice.
Serve garnished with ginger and cilantro.
Tip: When cooking with oil, be sure to heat it well before adding the other ingredients; otherwise, they may simply absorb the oil, which can cause sticking and burning.
Per serving
Calories 120
Protein 5 g
Total fat 3 g

Saturated fat 0.3 g
Cholesterol 0 mg

Carbohydrates 22 g

Fibre 5 g
Sugars 0 g
Added sugars 0 g

Sodium 346 mg
Potassium 425 mg
© Copyright 2022 Canadian Diabetes Association. Reproduced with permission from the Canadian Diabetes Association.