Flavours of the World
Eggplant sweet potato coconut curry
This Asian blend of sweet and savoury pairs perfectly with hearty, wholesome vegetables – even meat lovers will drool.
Vegetarian
Carb Smart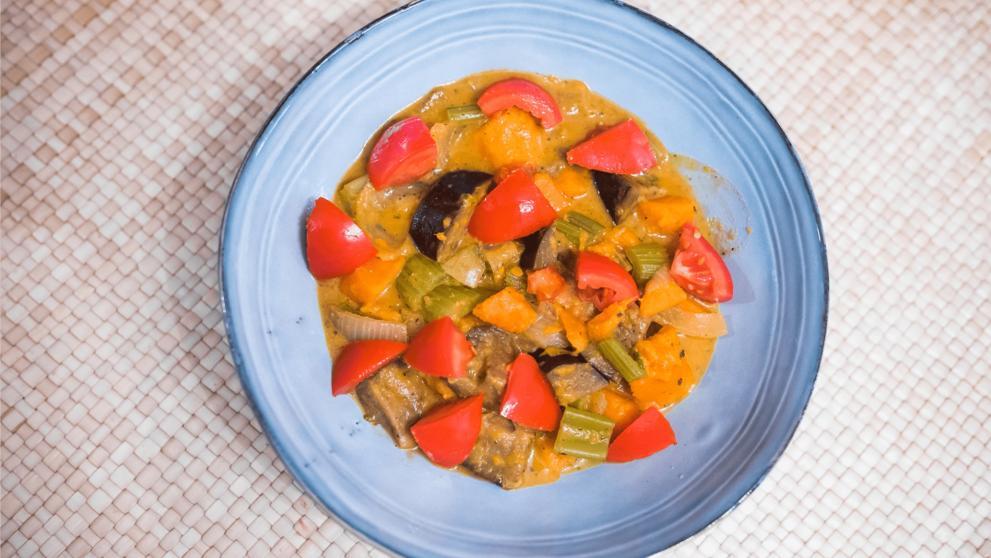 Developed by Emily Richards (PH Ec.)

4 servings
50 minutes (prep: 20 mins / cook: 30 mins)




Ingredients
3 Asian eggplants or small eggplants (about 12 oz/375 g)
1 onion, chopped
6 tbsp (90 mL) canola oil, divided
1 bunch green onions, chopped
1 stalk celery, chopped
2 red Thai chilies
1 tbsp (15 mL) curry powder
3 tbsp (45 mL) tomato paste
1 can (400 mL) coconut milk
½ cup (125 mL) vegetable broth
1 large sweet potato (about 12 oz/375 g), peeled and chopped
¼ cup (60 mL) coarsely chopped fresh cilantro
Cooked rice
Calories 480
Carbs 35 g
Sugar 9 g
Fibre 7 g
Directions
Chop eggplants into 1 inch (2.5 cm) pieces; set aside.
In a large nonstick skillet heat 5 tbsp (75 mL) of the oil over medium high heat. Brown eggplant and onion for about 8 minutes and remove to bowl.
Return skillet to medium heat and add remaining oil. Cook green onions, celery, chilies and curry powder for 2 minutes. Stir in tomato paste until coated. Add sweet potato, coconut milk and vegetable broth; bring to a boil. Reduce heat; cover and simmer gently for 10 minutes. Stir in eggplant; cover and cook for 10 minutes or until sweet potato is very tender. Sprinkle with cilantro and spoon over rice to serve.
Per serving (365 g)
Calories 480
Protein 6 g
Total fat 38 g

Saturated fat 18 g
Cholesterol 0 mg

Carbohydrates 35 g

Fibre 7 g
Sugars 9 g
Added sugars 0 g

Sodium 300 mg
© 2022 Heart and Stroke Foundation of Canada. Reproduced with permission from the Heart and Stroke Foundation.