FLAVOURS OF THE WORLD
Falafel burgers with creamy sesame sauce
An excellent meatless main dish. A healthy and filling burger that's bound to please vegetarians and meat eaters too. This burger has a lot of flavour, without a lot of calories. Most of the fat in this recipe comes from tahini, a sesame seed paste. Like other nuts and seeds, tahini is a healthy type of fat.
Vegetarian
Carb Smart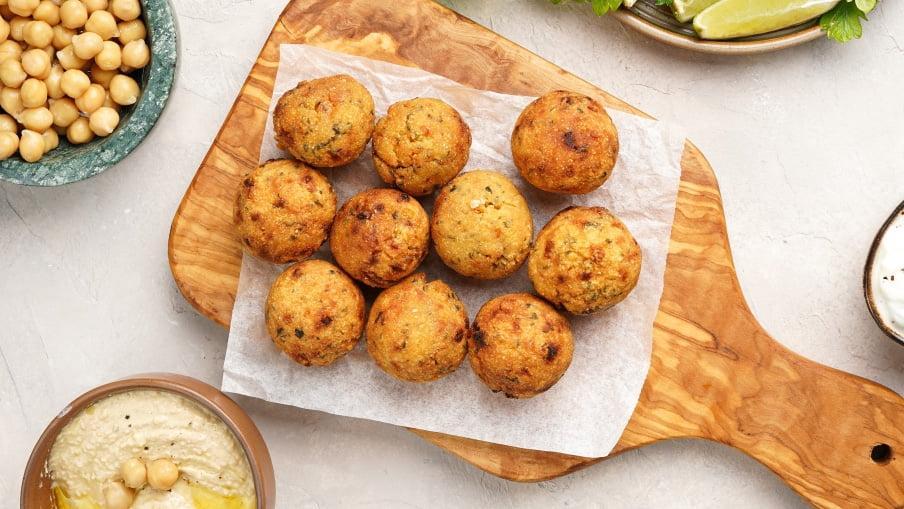 Developed by Complete Canadian Diabetes Cookbook, Katherine E. Younker, Robert Rose Inc., 2005

4 servings
40 minutes (prep: 25 mins / cook: 15 mins)


Ingredients
Falafel burger

2 cups (500 mL) drained canned chickpeas
¼ cup (50 mL) chopped green onions
¼ cup (50 mL) chopped fresh coriander
¼ cup (50 mL) finely chopped carrots
¼ cup (50 mL) bread crumbs
3 tbsp (45 mL) lemon juice
3 tbsp (45 mL) water
2 tbsp (25 mL) tahini (pureed sesame seeds)
2 tsp (10 mL) minced garlic
¼ tsp (1 mL) ground black pepper
2 tsp (10 mL) vegetable oil
Sauce
¼ cup (50 mL) light sour cream
2 tbsp (25 mL) tahini
2 tbsp (25 mL) chopped fresh coriander
2 tbsp (25 mL) water
2 tsp (10 mL) lemon juice
½ tsp (2 mL) minced garlic
Calories 305
Carbs 36 g
Sugar 4 g
Fibre 6 g
Make ahead
Prepare burgers early in the day and refrigerate until ready to cook. Prepare sauce up to a day ahead.
Directions
Put chickpeas, green onions, coriander, carrots, bread crumbs, lemon juice, water, tahini, garlic and black pepper in food processor; pulse on and off until finely chopped. With wet hands, form 8 round patties.
In small bowl, whisk together sour cream, tahini, coriander, water, lemon juice and garlic.
In a nonstick skillet sprayed with vegetable spray, heat 1 tsp (5 mL) of oil over medium heat. Add 4 patties and cook for 3½ minutes or until golden; turn and cook 3½ minutes longer or until golden and hot inside. Remove from pan.
Heat remaining 1 tsp (5 mL) oil and cook remaining patties. Serve alone with sesame sauce or serve in a pita or bun. (Nutrition information does not include pita or bun)
Per serving (2 patties)
Calories 305
Protein 12 g
Total fat 14 g

Saturated fat 3 g
Cholesterol 6 mg

Carbohydrates 36 g

Fibre 6 g
Sugars 4 g
Added sugars 0 g

Sodium 87 mg
Potassium 175 mg
© 2019 Heart and Stroke Foundation of Canada. Reproduced with permission from the Heart and Stroke Foundation.