FLAVOURS OF THE WORLD
Greek lentil salad
A hearty salad bursting with flavour. The high fibre and low glycemic index of lentils helps prevent blood sugar levels from rising rapidly after a meal, which makes them a great choice for people with diabetes. Make lentils a regular on your weekly menu with this tasty Greek lentil salad.
Calorie Smart
Carb Smart
Vegetarian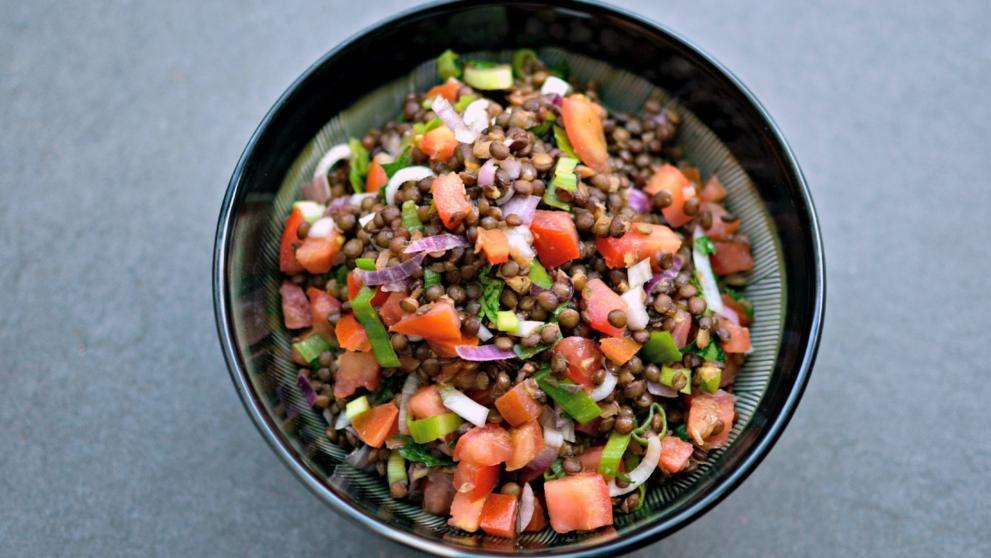 Developed by Pulse Canada

10 servings
10 minutes (prep: 10 mins / cook: 0 mins)


Ingredients
1 19 oz can (540 mL) lentils, rinsed and drained
½ cup (125 mL) Kalamata olives (optional)
½ cup (125 mL) onion, chopped
1½ cups (375 mL) grape tomatoes, halved
½ cup (125 mL) green peppers, chopped
1 cup (250 mL) cucumber, diced
¼ cup (50 mL) feta cheese, crumbled
¼ cup (50 mL) fresh parsley, chopped
¼ cup (50 mL) canola oil
¼ cup (50 mL) lemon juice
1 tbsp (15 mL) dried oregano
Calories 133
Carbs 15 g
Sugar 2 g
Fibre 3 g
Directions
In a large bowl, combine lentils, olives, onion, tomatoes, green pepper, cucumber, feta cheese and parsley.
In a small bowl, whisk canola oil, lemon juice and oregano together.
Add dressing and parsley to lentil mixture and toss to coat.
This salad can be eaten right away or prepared a day in advance. For a quick marinade, cover the dressed salad and refrigerate for 2 hours before serving.
Per serving (3/4 cup)
Calories 133
Protein 6 g
Total fat 6 g

Saturated fat 1 g
Cholesterol 4 mg

Carbohydrates 15 g

Fibre 3 g
Sugars 2 g
Added sugars 0 g

Sodium 112 mg
Potassium 130 mg
© Copyright 2022 Canadian Diabetes Association. Reproduced with permission from the Canadian Diabetes Association.