FLAVOURS OF THE WORLD
Caribbean grilled pork with tropical salsa
This tangy, sunny dish will help you feel that summer is just around the corner.
Calorie Smart
Carb Smart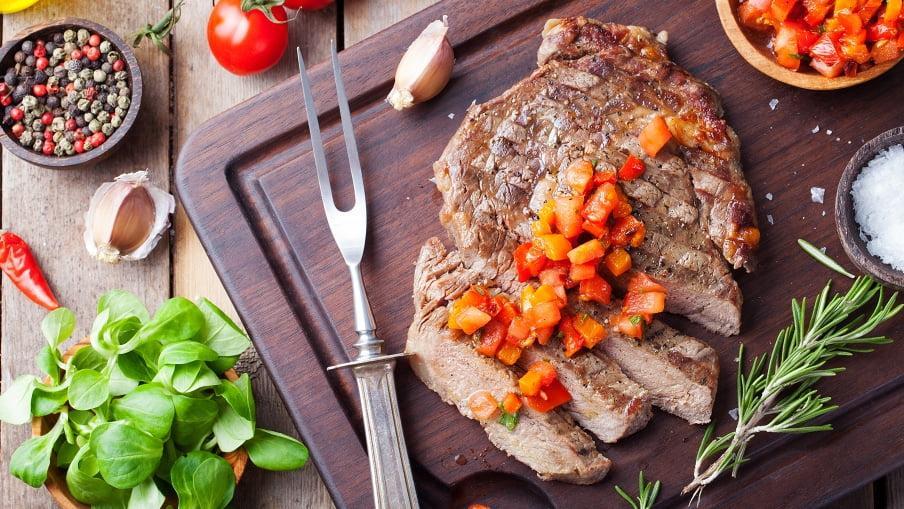 Developed by CanolaInfo.org

6 servings
20 minutes (prep: 10 mins / cook: 10 mins)


Ingredients
1 small pineapple (about 2 cups/500 mL), peeled, cored and diced
1 medium orange, peeled and diced
2 tbsp (25 mL) fresh cilantro, minced
Juice of half a fresh lime
½ tbsp (7 mL) sucralose brown sugar blend
2 tsp (10 mL) minced garlic
2 tsp (10 mL) minced ginger
2 tsp (10 mL) ground cumin
2 tsp (10 mL) ground coriander
½ tsp (2 mL) turmeric
2 tbsp (25 mL) canola oil (plus more to oil the grill)
6 pork loin chops (about 3 oz/90 g each)
Calories 210
Carbs 10 g
Fibre 2 g
Directions
Make salsa by combining pineapple, orange, cilantro and lime juice in bowl. Set aside. Can be prepared up to 2 days in advance and refrigerated.
Make rub for pork chops: in small bowl, combine brown sugar blend, garlic, ginger, cumin, coriander and turmeric. Do not omit turmeric as it lends a lovely yellow hue to this dish.
Brush both sides of pork chops with canola oil and apply rub to both sides.
Preheat barbecue to medium-high. Place pork chops on grill for about 5 minutes per side or until cooked to internal temperature of 160 °F (70 °C).
Serve each chop accompanied with

1

/

3

cup (75 mL) salsa.
Per serving (1 chop and 1/3 cup/75 mL salsa)
Calories 210
Protein 19 g
Total fat 10 g

Saturated fat 2 g
Cholesterol 50 mg

Carbohydrates 10 g
Sodium 32 mg
Potassium 376 mg
© 2022 Heart and Stroke Foundation of Canada. Reproduced with permission from the Heart and Stroke Foundation.