FLAVOURS OF THE WORLD
Moroccan-inspired chicken thighs
These tender chicken thighs are lightly spiced and have a hint of lemon.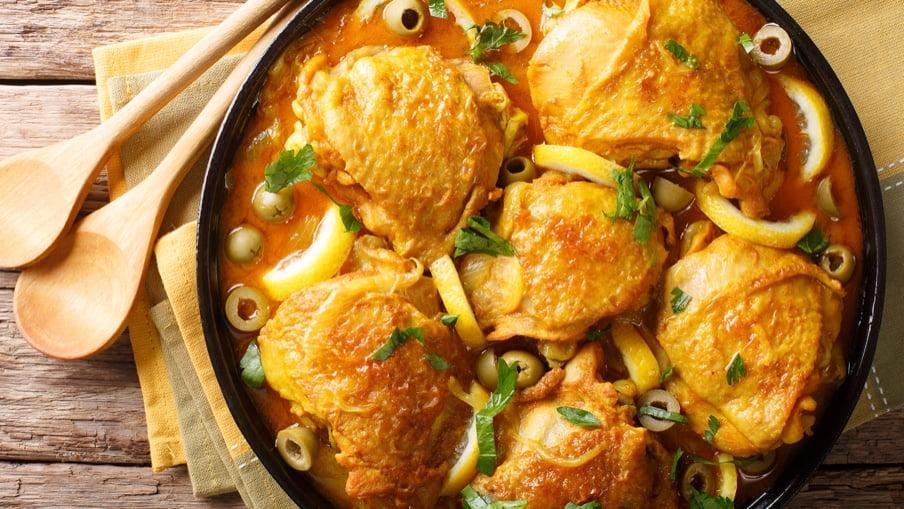 2 servings
52 minutes (prep: 30 mins / cook: 22 mins)


Ingredients
2 tsp (10 mL) canola oil, divided
2 (½ lb/250 g) bone-in, skinless, chicken thighs
1 cup (250 mL) diced sweet onion
2 cups (500 mL) peeled butternut squash, cut into ½ inch (1 cm) cubes
1 clove garlic, chopped
1 tsp (5 mL) ground turmeric
3 tbsp (45 mL) golden raisins
1 cup (250 mL) sodium-reduced chicken broth
2 wide strips of lemon peel
2 tbsp (25 mL) lemon juice
½ cup (125 mL) canned chickpeas, drained and rinsed
1 tbsp (15 mL) chopped fresh parsley or cilantro
Calories 380
Carbs 49 g
Sugar 20 g
Fibre 9 g
Directions
In large nonstick skillet, heat 1 tsp (5 mL) canola oil over medium-high heat. Add chicken and cook until golden brown; about 4 minutes on each side. Remove to a plate; cover and keep warm.
Add remaining canola oil, onion and squash; cook stirring occasionally, until softened, about 3 minutes. Add garlic, turmeric, cinnamon and raisins; stir to coat vegetables.
Add chicken broth and lemon strips to skillet; and bring to a simmer. Return chicken to skillet; cover and cook until chicken is cooked through, 10 to 12 minutes.
Stir in lemon juice and chickpeas; cook 2 minutes longer.
Transfer the chicken to plates. Spoon the broth and vegetables over the chicken and top with parsley.
Per serving (1 of 2)
Calories 380
Protein 23 g
Total fat 11 g

Saturated fat 2 g
Cholesterol 85 mg

Carbohydrates 49 g

Fibre 9 g
Sugars 20 g
Added sugars 0 g

Sodium 200 mg
Potassium 1009 mg
© 2022 Heart and Stroke Foundation of Canada. Reproduced with permission from the Heart and Stroke Foundation.