FLAVOURS OF THE WORLD
Moroccan beef and apricot stew
Hearty beef is softened with spice and fruit and served spooned over rice or couscous for a perfect cold night supper.
Carb Smart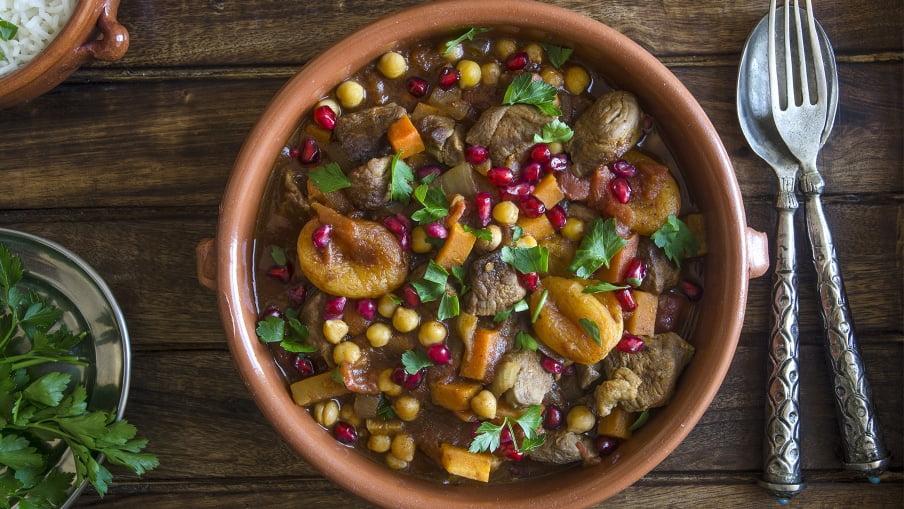 Developed by Emily Richards (PH Ec.)

6 servings
2 hours 30 minutes (prep: 15 mins / cook: 2 hours 15 mins)


Ingredients
2 tsp (10 mL) canola oil
2 lb (1 kg) lean stewing beef, visible fat removed
1 ½ tsp (7 mL) each ground cumin and ground coriander
¼ tsp (1 mL) fresh ground pepper
2 onions, chopped
3 cloves garlic, minced
2 tbsp (25 mL) minced fresh ginger
1 hot chili pepper, seeded and minced
1 ½ cups (375 mL) sodium reduced beef or vegetable broth or water
12 dried apricots, halved
2 zucchini, chopped
Calories 330
Carbs 18 g
Sugar 12 g
Fibre 3 g
Directions
Toss beef with cumin, coriander and pepper.
In a shallow Dutch oven, heat oil over medium high heat and brown beef.
Stir in onions, garlic, ginger and chili pepper and cook, stirring for about 5 minutes or until onions have softened. Add broth; bring to a simmer and cover and cook for 1 ½ hours. Stir in apricots and cook for about 30 minutes or until beef is very tender.
Uncover and stir in zucchini; cover and cook for about 15 minutes or until zucchini is tender.
Per serving (1 of 6)
Calories 330
Protein 36 g
Total fat 12 g

Saturated fat 4.5 g
Cholesterol 80 mg

Carbohydrates 18 g

Fibre 3 g
Sugars 12 g
Added sugars 0 g

Sodium 260 mg
Potassium 980 mg
© 2022 Heart and Stroke Foundation of Canada. Reproduced with permission from the Heart and Stroke Foundation.