Family-friendly
Seekh kebabs
Enjoy these delicious and flavourful kebabs.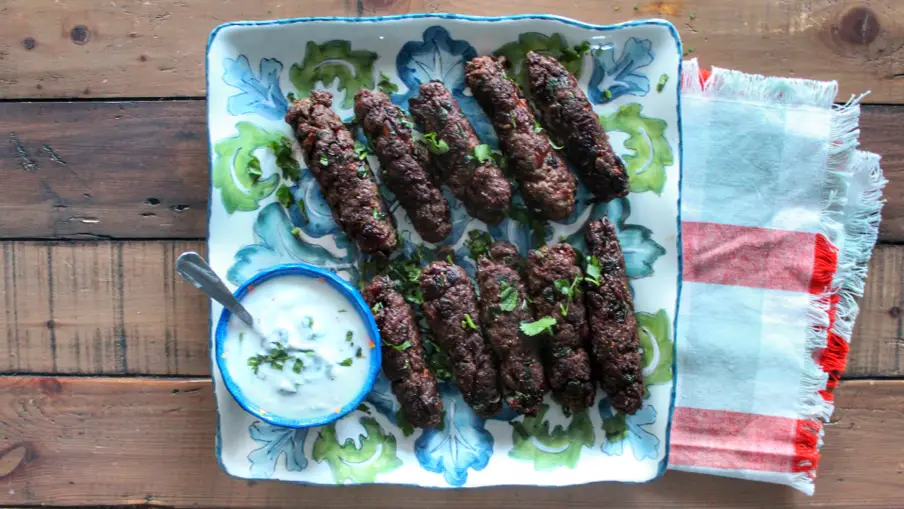 Developed by Urdo Mom

8-10 servings
45 minutes (prep: 35 mins / cook: 10 mins)


Ingredients
½ kg minced lean veal meat
3 tbsp oats
1 onion
1 tbsp cumin seeds
1 tbsp coriander seeds
¼ cup fresh coriander chopped
¼ cup fresh mint chopped
3 tbsp olive oil
½ tsp salt
½ tsp chili flakes
½ tsp black pepper
Calories 208
Carbs 3.7 g
Sugar 0.8 g
Fibre 0.8 g
Directions
Chop the onion. Fry it in a little olive oil till they turn brown. Set aside.
Dry roast the cumin and coriander seeds. Grind and set aside.
Dry roast the oats and grind.
Mix all the ingredients well in a bowl.
Dip bamboo skewers in water for five mins and then dry on a napkin.
Take a small portion of the minced meat mix in your hands and put on a skewer in long seekh kebab shapes.
Shallow fry in a pan making sure all sides are cooked.
Serve fresh with yogurt and dips of your choice!
Per serving (1 of 8)
Calories 208
Protein 12.5 g
Total fat 16 g

Saturated fat 5.7 g
Cholesterol 40 mg

Carbohydrates 3.7 g

Fibre 0.8 g
Sugars 0.8 g
Added sugars 0 g

Sodium 45 mg
Potassium 270 mg
Recipe developed by Tamania, Urdo Mom.