FAMILY-FRIENDLY
Meatball and vegetable stew
A delicious blend of nourishing veggies and hearty meatballs, this stew is the perfect comfort food.
Calorie Smart 
Carb Smart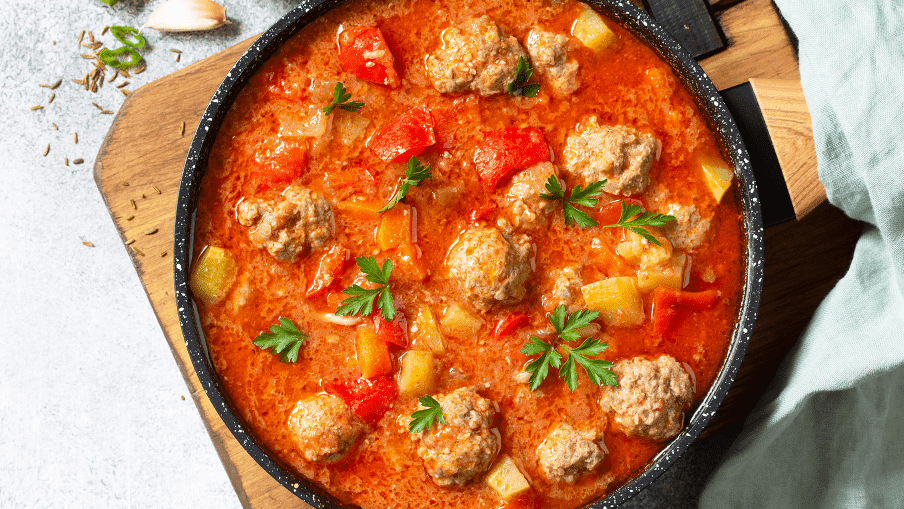 Developed by Emily Richards (PH Ec.) 

6 servings  
45 minutes (prep: 20 mins / cook: 25 mins)


Ingredients
8 oz (227 g) ground extra lean turkey, chicken or veal
8 oz (227 g) ground extra lean beef or pork

1

/

3

cup (75 mL) dry breadcrumbs

1

/

3

cup (75 mL) salsa
2 tbsp (25 mL) chopped fresh parsley
1 tsp (5 mL) Worcestershire sauce
2½ cups (625 mL) sodium reduced beef broth
1 pkg (227 g) mushrooms, sliced
1 small onion, chopped
1 cup (250 mL) baby carrots
½ cup (125 mL) chopped celery
2 cloves garlic, minced
3 tbsp (45 mL) cornstarch
3 tbsp (45 mL) water
Hot pepper sauce (optional)
Calories 184
Carbs 15 g
Sugar 3 g
Fibre 2 g
Directions
In a large bowl, combine veal, beef, breadcrumbs, salsa, parsley and Worcestershire. Roll mixture into 1 inch (2.5 cm) meatballs and place on parchment paper lined baking sheet. Bake in 350°F (180°C) oven for about 15 minutes or until no longer pink inside.
Meanwhile, in soup pot, combine broth, mushrooms, onion, carrots, celery and garlic; cover and bring to a boil over medium heat. Uncover and simmer for 5 minutes. Add meatballs and stir to combine. Whisk together cornstarch and water; stirring into broth. Cook for about 2 minutes or until slightly thickened.

Tip: Make the meatballs ahead and freeze for up to 2 weeks for a quick addition to your weekly meal routine.
Per serving (1 of 6)
Calories 184
Protein 18 g
Total fat 6 g

Saturated fat 2 g
Cholesterol 53 mg

Carbohydrates 15 g

Fibre 2 g
Sugars 3 g
Added sugars 0 g

Sodium 424 mg
Potassium 531 mg
©

2022 Heart and Stroke Foundation of Canada. Reproduced with permission from the Heart and Stroke Foundation.