FAMILY-FRIENDLY
Grilled chicken barley bowl
A simple combo of grains, protein and vegetables, this light and bright dish makes a delicious lunch or dinner.
Calorie Smart 
Carb Smart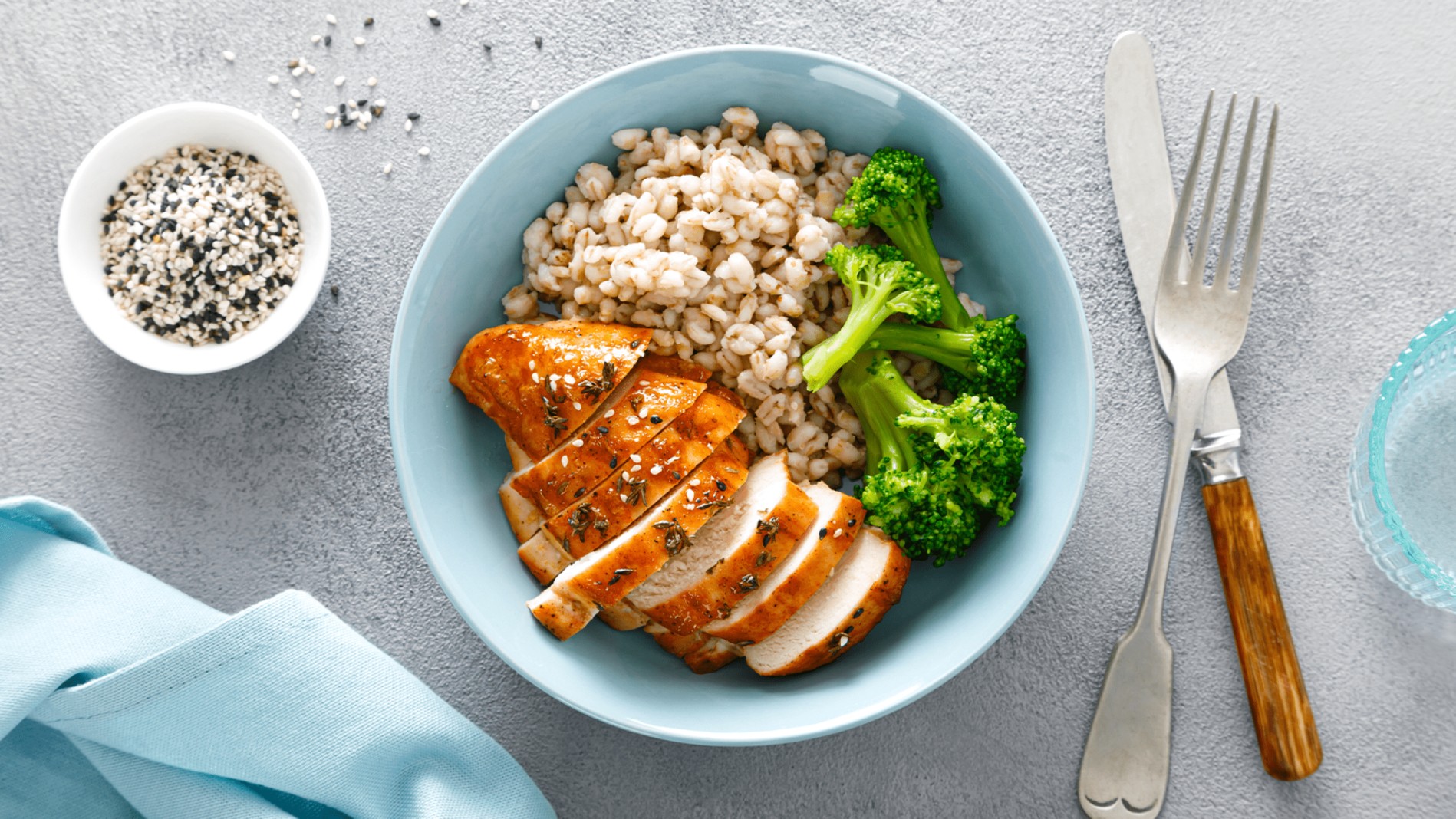 Developed by Emily Richards (PH Ec.) 

4 servings 
30 minutes (prep: 20 mins / cook: 10 mins)


Ingredients
½ cup (125 mL) pearl or pot barley
2 cups (500 mL) baby arugula
4 carrots, sliced lengthwise
2 red peppers, quartered
2 boneless, skinless chicken breasts (about 1 lb/454 g)
2 tsp (10 mL) canola oil, divided
1 tsp (5 mL) chili powder
2 tsp (10 mL) balsamic vinegar
Calories 280
Carbs 33 g
Sugar 7 g
Fibre 5 g
Directions
In a small saucepan, cover barley with water; bring to a boil. Reduce heat and simmer for about 20 minutes or until barley is tender but still chewy. Drain well and toss with arugula; set aside.
Spray carrots and peppers with cooking spray; set aside.
Toss chicken breasts with 1 tsp (5 mL) of the oil and chili powder to coat.
Heat grill to medium high heat and grill carrots, peppers and chicken breasts for about 7 for the vegetables and about 12 minutes for the chicken. Turn occasionally until vegetables are tender and chicken is no longer pink inside. Remove to cutting board.
Slice carrots and peppers; toss with remaining oil and vinegar. Divide barley mixture among 4 bowls and top with vegetables.
Slice chicken and place over top to serve.
Vegetarian option:
Substitute chicken breasts with 1 package (350 g) of extra firm tofu; slice into 4 (lengthwise) pieces and grill for about 10 minutes, turning once.
Per serving (1 of 4)
Calories 280
Protein 26 g
Total fat 6 g

Saturated fat 1 g
Cholesterol 60 mg

Carbohydrates 33 g

Fibre 5 g
Sugars 7 g
Added sugars 0 g

Sodium 120 mg
Potassium 700 mg
© 2022 Heart and Stroke Foundation of Canada. Reproduced with permission from the Heart and Stroke Foundation.