DESSERTS
Sweet potato and chai spice muffins
Get all the flavours you love from the warm spice blend in these muffins, which are made moist and fluffy thanks to sweet potato.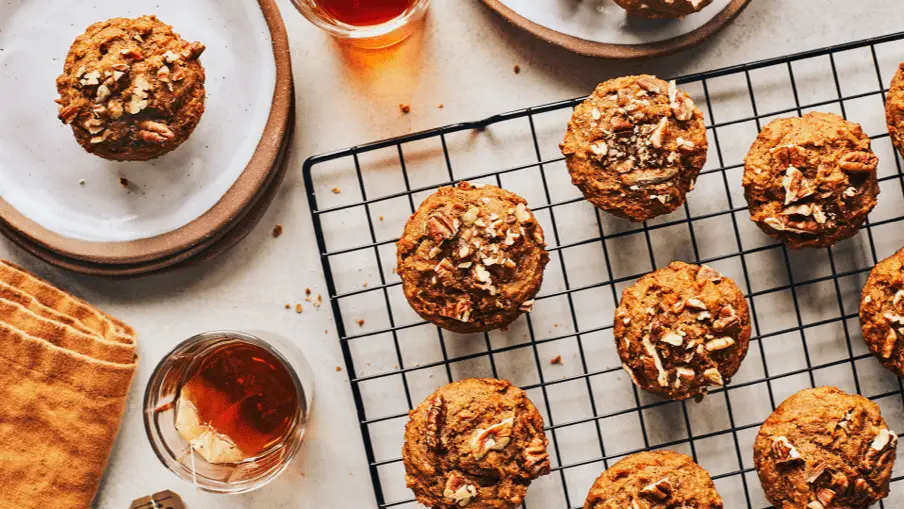 Developed by Geneviève O'Gleman, nutritionist

12 servings
40 minutes (prep: 20 mins / cook: 20 mins)


Ingredients
1 medium sweet potato or 250 mL (1 cup) mashed sweet potatoes
¼ cup brown sugar
½ cup (125 mL) vegetable oil
½ cup (125 mL) plain 0% Greek yogurt
2 eggs
1 tsp (5 mL) baking powder
1 tsp (5 mL) baking soda
1 tsp (5 mL) ground ginger
1 tsp (5 mL) ground cinnamon
1 tbsp (15 mL) allspice blend
1 cup (250 mL) whole wheat flour
½ cup (125 mL) almond powder
¼ cup (60 mL) natural pecans
Calories 209
Carbs 18 g
Sugar 6 g
Fibre 4 g
Directions
Preheat the oven to 180°C (350°F). Place the rack in the centre of the oven.
Cut the potato in half and place it on a microwave-safe plate, cut side down.
Cook for 6 to 8 minutes or until the tip of a knife can be inserted very easily into the flesh and the potato is soft. Let cool.
Meanwhile, in a large bowl, mix brown sugar and oil with a fork.
Stir in yogurt and eggs.
Sprinkle in baking powder, baking soda and spices. Mix well.
Remove the flesh from the sweet potato with a spoon. Mashed potato with a fork to puree, add to the bowl and mix.
Stir in flour and almond powder.
Divide the batter between the cavities of a non-stick or oiled muffin tin.
 Chop the pecans and spread them over the dough, pressing them lightly so that they stick to the dough.
 Bake for 20 minutes or until a toothpick inserted into the centre of a muffin comes out clean.
Let cool and serve.
Tip: These muffins will keep for 4 days in the refrigerator or 2 months in the freezer.
Per serving (1 apple)
Calories 209
Protein 5 g
Total fat 14 g

Saturated fat 2 g
Cholesterol 33 mg

Carbohydrates 18 g

Fibre 4 g
Sugars 6 g
Added sugars 4 g

Sodium 155 mg
Potassium 103 mg
Recipe developed by Geneviève O'Gleman, Dt. P. Nutritionist.