DESSERTS
Oatmeal choco-cranberry cookies
Who knew you could jam so many delicious flavours into one cookie?
Calorie Smart
Carb Smart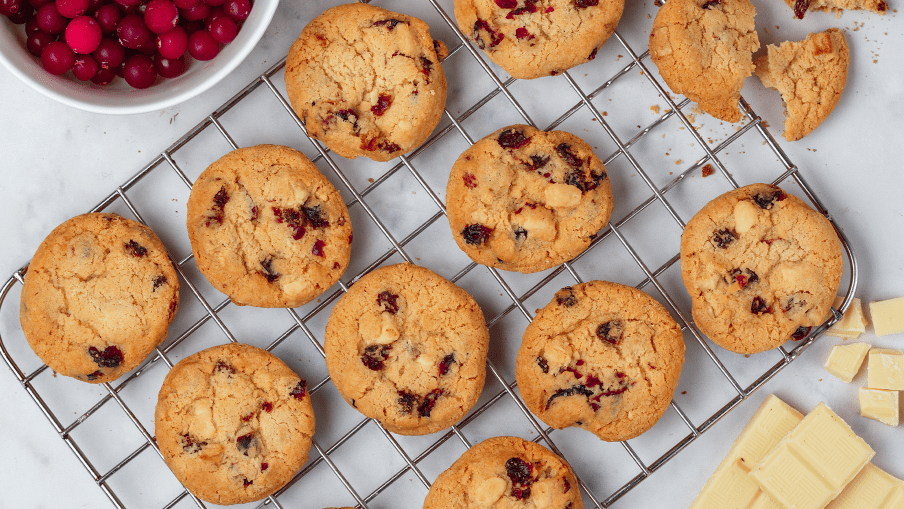 Developed by Emily Richards (PH Ec.)

12 servings
25 minutes (prep: 10 mins / bake: 15 mins)


Ingredients
2 very ripe bananas, peeled
½ tsp (2 mL) vanilla extract
1 cup (250 mL) large flake oats
2 tbsp (25 mL) ground flax or chia seed
¼ tsp (1 mL) ground cinnamon
3 tbsp (45 mL) mini chocolate chips
3 tbsp (45 mL) dried cranberries
Calories 73
Carbs 13 g
Sugar 5 g
Fibre 2 g
Directions
In a bowl, mash bananas until smooth. Stir in vanilla.
In another bowl, stir together oats, flax and cinnamon. Stir into banana mixture until well combined. Stir in chocolate chips and cranberries.
Scoop dough into 12 mounds onto parchment paper lined baking sheet. Flatten each slightly and bake in 350°F (180°C) oven for about 12 minutes or until cookies are firm to the touch. Let cool before removing from baking sheet.
© 2022 Heart and Stroke Foundation of Canada. Reproduced with permission from the Heart and Stroke Foundation.