DESSERTS
Fudgy soft cookies
Ooey, gooey goodness – enough said.
Calorie Smart
Carb Smart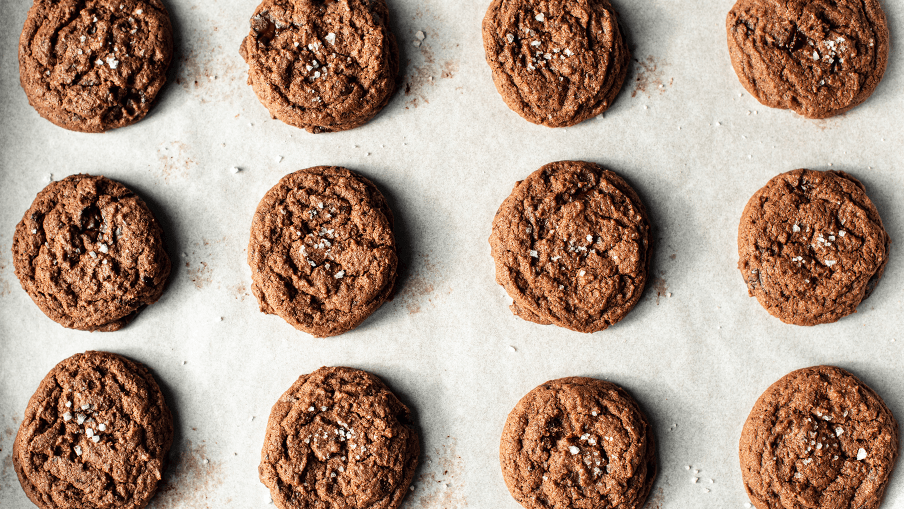 Developed by Emily Richards (PH Ec.)

24 cookies
26–28 minutes (prep: 15 mins / cook: 1 min / bake: 10–12 mins)


Ingredients
1 cup (250 mL) pitted Medjool dates (about 12) or prunes, chopped

1

/

3

cup (75 mL) low-fat milk
¼ cup (50 mL) butter, softened
¾ cup (175 mL) whole-wheat flour

1

/

3

cup (75 mL) unsweetened cocoa powder
½ tsp (2 mL) each baking soda and baking powder
¼ cup (60 mL) granulated sugar
1 egg
1 tsp (5 mL) vanilla extract
Calories 74
Carbs 14 g
Sugar 10 g
Fibre 2 g
Directions
In a large microwaveable bowl, combine dates, milk and margarine. Cover and microwave on high for 1 minute or until steaming. Using a fork or potato masher, mash the date mixture. Let cool slightly.
In another bowl, combine flour, cocoa powder and baking soda and powder; set aside.
Using an electric mixer, beat sugar into date mixture. Beat in egg and vanilla until combined. Gradually add flour mixture and beat until combined.
Using a tablespoon (15 mL) or mini ice cream scoop, drop batter on parchment paper lined baking sheet about 5 cm (2 inches) apart. Bake in centre of 375 °F (190 °C) oven for 10 to 12 minutes or until just firm to the touch. Let cool on pan on cooling rack. Repeat with remaining batter.
Storage tip: Keep in resealable plastic bag or airtight container for about 3 days in the refrigerator or in freezer for up to 3 weeks.
Per serving (1 cookie)
Calories 74
Protein 1 g
Total fat 2 g

Saturated fat 0 g
Cholesterol 8 mg

Carbohydrates 14 g

Fibre 2 g
Sugars 10 g
Added sugars 2 g

Sodium 45 mg
Potassium 123 mg
© 2022 Heart and Stroke Foundation of Canada. Reproduced with permission from the Heart and Stroke Foundation.