DESSERTS
Chocolate walnut brownies
Fudgy thick brownies are a tasty treat with fresh fruit. These ones pack additional fibre and protein – perfect for your mid-afternoon break.
Calorie Smart
Carb Smart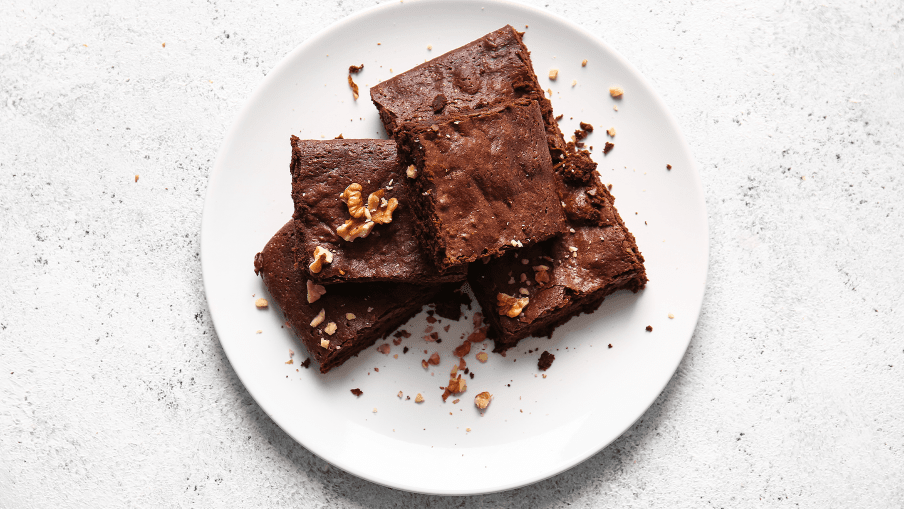 Developed by Emily Richards (PH Ec.)

16 servings
30 minutes (prep: 10 mins / bake: 20 mins)


Ingredients
1 can (19 oz/540 mL) white kidney beans, drained and rinsed

2

/

3

cup (150 mL) packed brown sugar
½ cup (125 mL) skim milk
2 egg whites
¼ cup (50 mL) soft non-hydrogenated margarine, melted
1 tbsp (15 mL) vanilla
½ cup (125 mL) whole wheat flour
½ cup (125 mL) unsweetened cocoa powder

1

/

3

cup (75 mL) wheat germ
1 tsp (5 mL) baking powder

1

/

3

cup (75 mL) chopped toasted walnuts
Calories 137
Carbs 20 g
Sugar 10 g
Fibre 3 g
Directions
In food processor, puree beans until coarse. Add in sugar, milk, egg whites, margarine and vanilla and puree until smooth, scraping down sides a few times.
In a large bowl, whisk together flour, cocoa, wheat germ and baking powder. Pour bean mixture over flour mixture. Stir in walnuts to combine. Scrape batter into parchment paper lined 8-inch (1.5 L) square baking pan, smoothing top.
Bake in 350 °F (180 °C) oven for about 22 minutes or until cake tester inserted comes out clean. Let cool on rack.
Tip: These brownies need to be covered with plastic wrap or cut and stored in airtight container in refrigerator for up to 4 days. They can also be frozen for up to 2 weeks.
Per serving (1 portion)
Calories 137
Protein 4 g
Total fat 5 g

Saturated fat 1 g
Cholesterol 0 mg

Carbohydrates 20 g

Fibre 3 g
Sugars 10 g
Added sugars 7 g

Sodium 132 mg
Potassium 222 mg
© 2022 Heart and Stroke Foundation of Canada. Reproduced with permission from the Heart and Stroke Foundation.