DESSERTS
Almond orange loaf
Kick "tea time" up a notch with this nutty, citrusy treat.
Calorie Smart
Carb Smart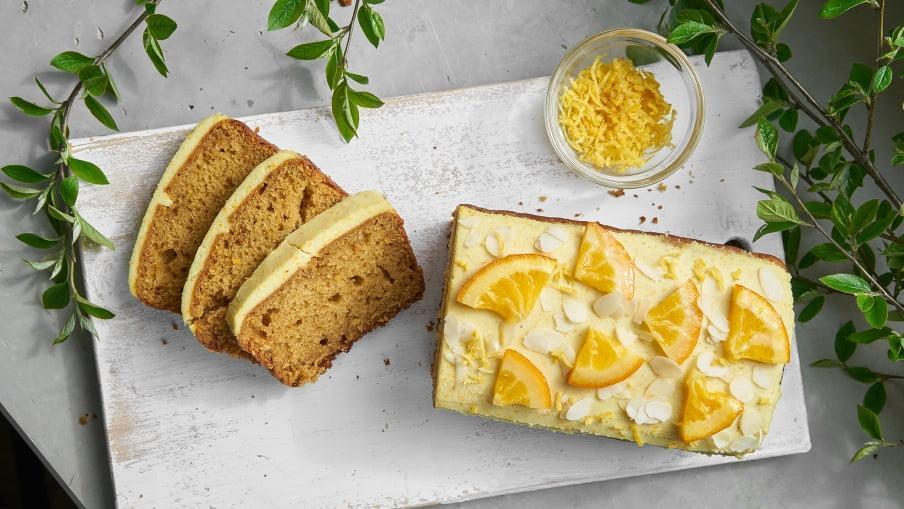 Developed by Emily Richards (PH Ec.)

16 slices
55 minutes (prep: 15 mins / bake: 40 mins)


Ingredients
1

/

3

cup (75 mL) packed brown sugar
¼ cup (60 mL) canola oil
1 egg
1 tsp (5 mL) grated orange zest
½ tsp (2 mL) almond extract
1 cup (250 mL) all-purpose flour with added fibre
¾ cup (175 mL) almond flour
1 tbsp (15 mL) poppy seeds (optional)
¾ tsp (4 mL) baking powder
¼ tsp (1 mL) baking soda
1 cup (250 mL) 0% plain Greek yogurt
Icing sugar (optional)
Orange slices (optional)
Calories 120
Carbs 12 g
Sugar 5 g
Fibre 2 g
Directions
In a large bowl, whisk together sugar, oil, egg, orange zest and almond extract.
In another bowl, whisk together flours, poppy seeds, if using, baking powder and soda. Alternately with yogurt, stir in 3 additions of flour and 2 of yogurt until combined. (Batter will be thick)
Spoon batter into parchment paper lined loaf pan and smooth top. Bake in 350 °F (180 °C) oven for about 40 minutes or until tester inserted in centre comes out clean.
Let cool before slicing and dust with icing sugar if desired. Serve with orange slices, if desired.
Per serving (1 slice)
Calories 120
Protein 4 g
Total fat 7 g

Saturated fat 0.5 g
Cholesterol 0 mg
Cholesterol 15 mg

Carbohydrates 12 g

Fibre 2 g
Sugars 5 g
Added sugars 4 g

Sodium 70 mg
Potassium 65 mg
© 2022 Heart and Stroke Foundation of Canada. Reproduced with permission from the Heart and Stroke Foundation.